These 'Ber Bundles' will save you money on appliances
Editor's note: Some finds are simply too good not to share. Let us guide you on some of the best deals out there. Before you check that cart out, be sure to #CheckThisOut🛒. Our articles contain affiliate links from our partners. We earn a small commission when you shop using these links.
Uy, may bonus na siya! (Looks like someone already got their bonus!) 👀
Eyeing that shiny new fridge for months? Or salivating on a big screen to watch K-dramas on? It's the most wonderful time of the year to reward yourself for what has been a rough 2021 so far. Christmas is finally in the air, with loads of sulit (worthy) deals in tow. You worked hard for that ~dough~, so whatever you decide to purchase must work harder for you in terms of quality and longevity.
Where to look? Enter Savers Appliances, an appliance store that started from Angeles City, Pampanga, and grew into a nationwide retailer under the Robinsons Retail Holdings group. Until November 30, 2021, you should not miss out on their limited-time "Ber Bundles," combos of select appliances and gadgets that you can score for a whole lot less – with up to 30%  discounts! A Savers' paradise, indeed.
Here are some of the bundles that I'm keeping my eyes on:
Includes: Haier 60cm 3 gas burner + electric burner cooking range, Magic Chef 1.5L rice cooker
Bundle price: P23,500 (You save P4,397)
Since noche buena crunch time is dawning, it's best to have all of your cooking tools in one place. Get started with this gas range and rice cooker combo with a price slash of almost 16% off! The Haier range has both electric and gas burners (three of them), while the accompanying Magic Chef rice cooker can cook up to eight cups. Magic talaga.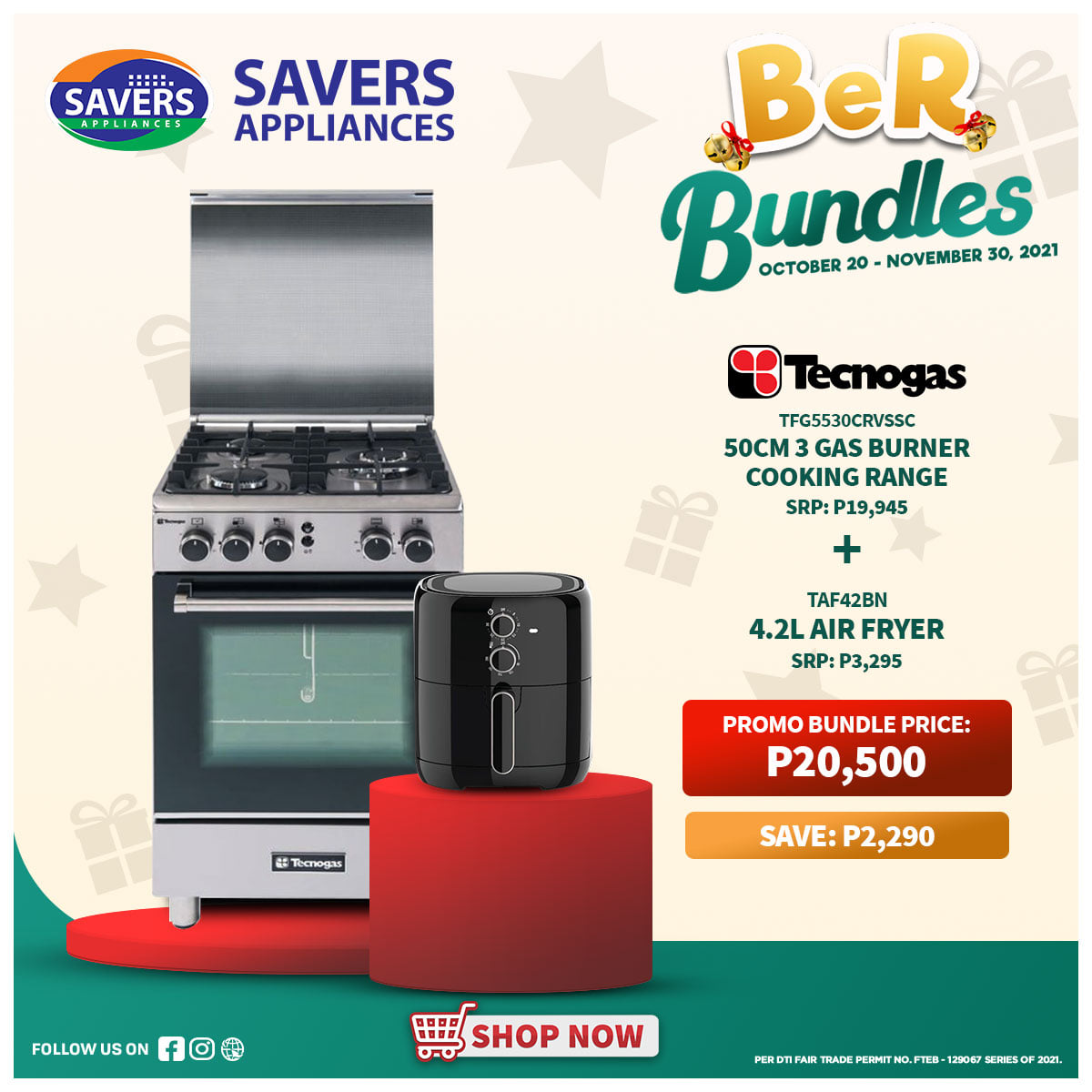 Includes: 50 cm 3-gas burner cooking range, 4.2L air fryer
Bundle price: P20,500 (You save P2,290)
Whether you're in the mood to become a chef for the day or feel like frying and be done with it, this premium Tecnogas bundle is your friend. The gas range is in full stainless steel, has three gas burners, and even comes with minute minder functions. The air fryer, on the other hand, is a companion for those lazy yet pa-healthy days – and your chance to have a life-changing experience like the thousands of air fryer owners across the world.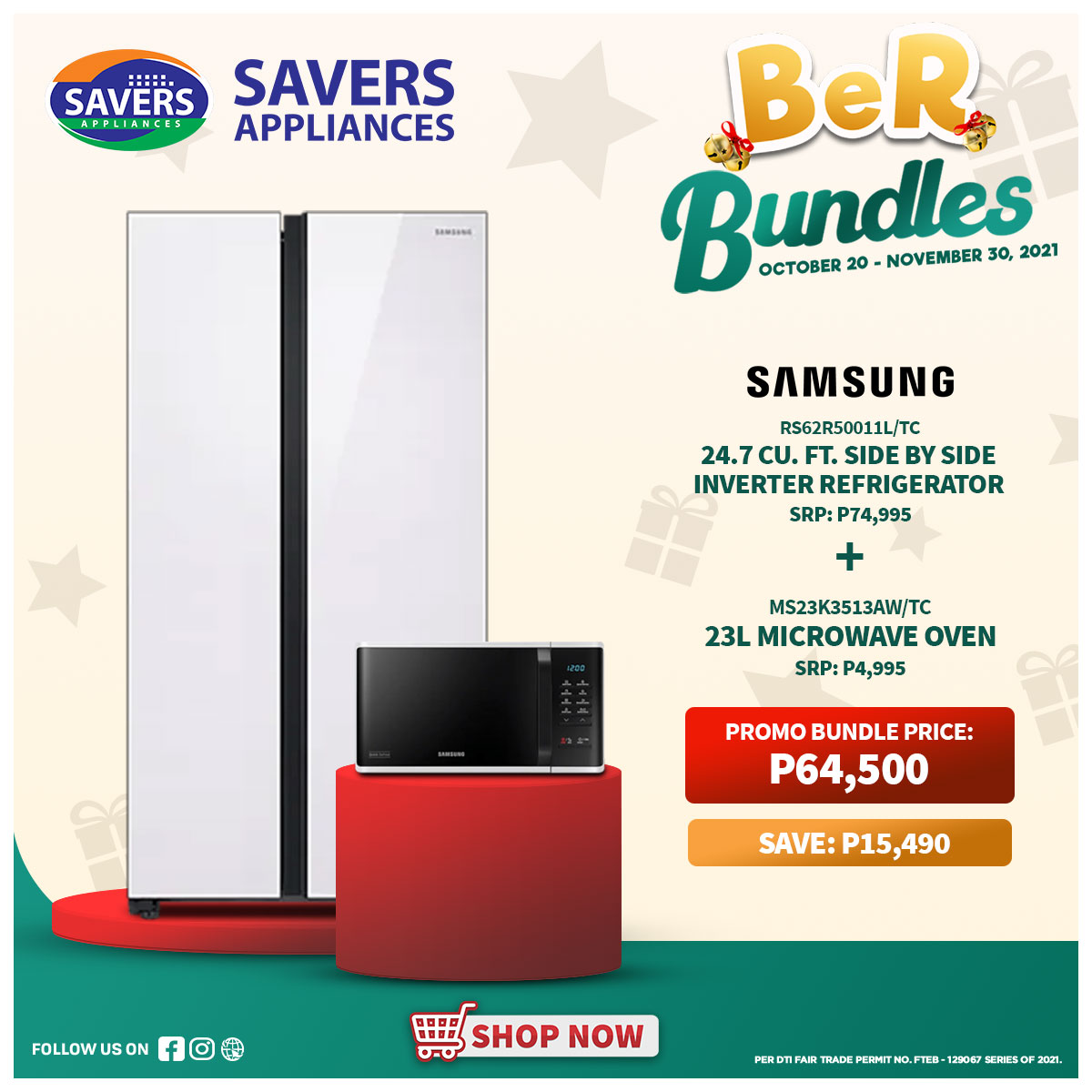 Includes: 24.7 cu ft side-by-side digital inverter refrigerator, 23L microwave oven
Bundle price: P64,500 (You save P15,490)
Why get this Samsung inverter refrigerator? The digital inverter compressor "does not abruptly start and stop," maintaining a consistent temperature, and causing less noise and energy consumption. It's also side-by-side, which makes it even more pleasing. Having the microwave oven is the cherry on top!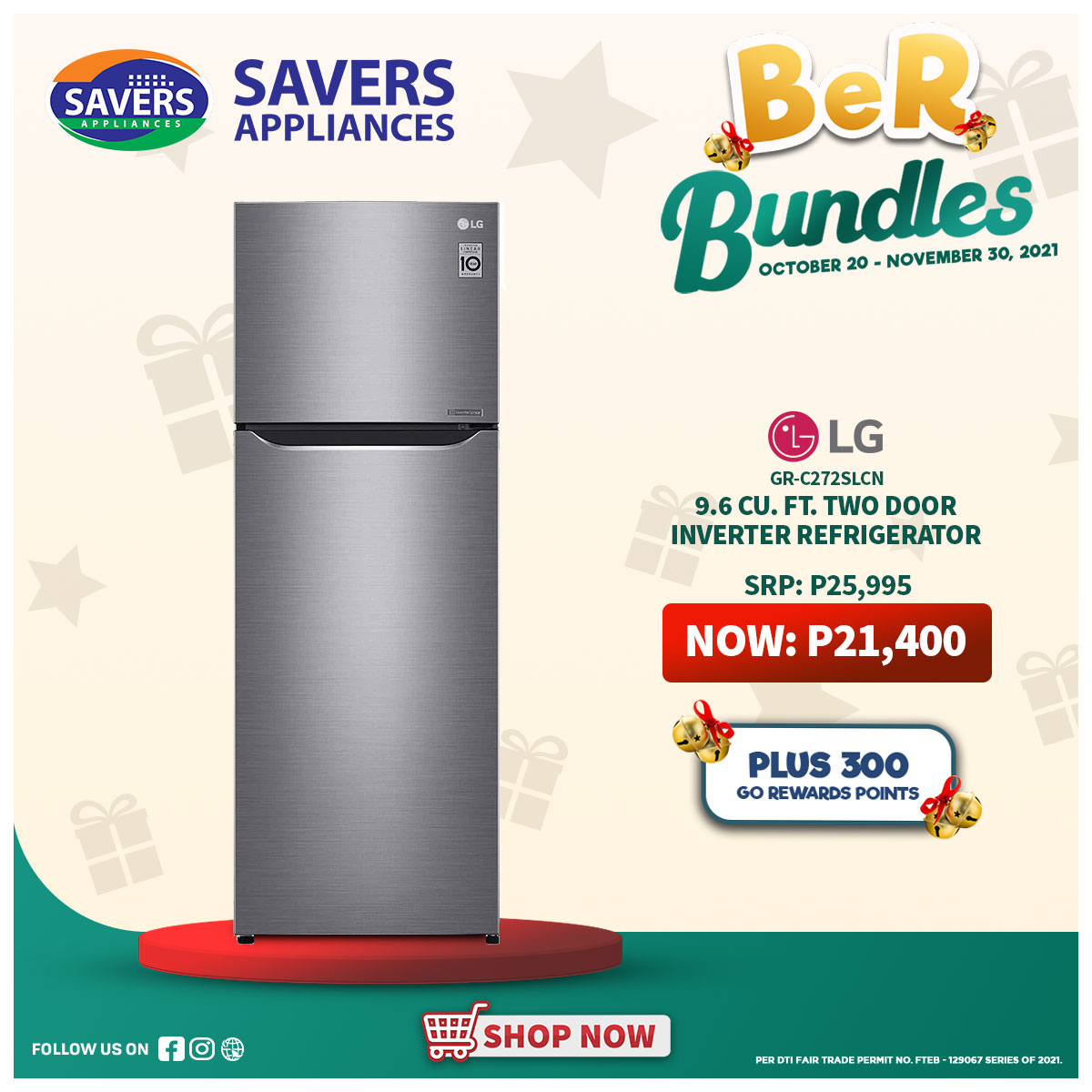 What is it: 9.6 cu ft two-door inverter refrigerator
Bundle price: P21,400 (You save P4,595)
[Buy it online or on Lazada]
LG has its own inverter refrigerator! Packed within are its original cooling technologies – LINEAR Cooling, which stabilizes the temperature, and DoorCooling+, which ensures that its two doors are cooled quickly even after opening. You can also bet on its tempered glass shelves and transparent door basket for ~aesthetic~.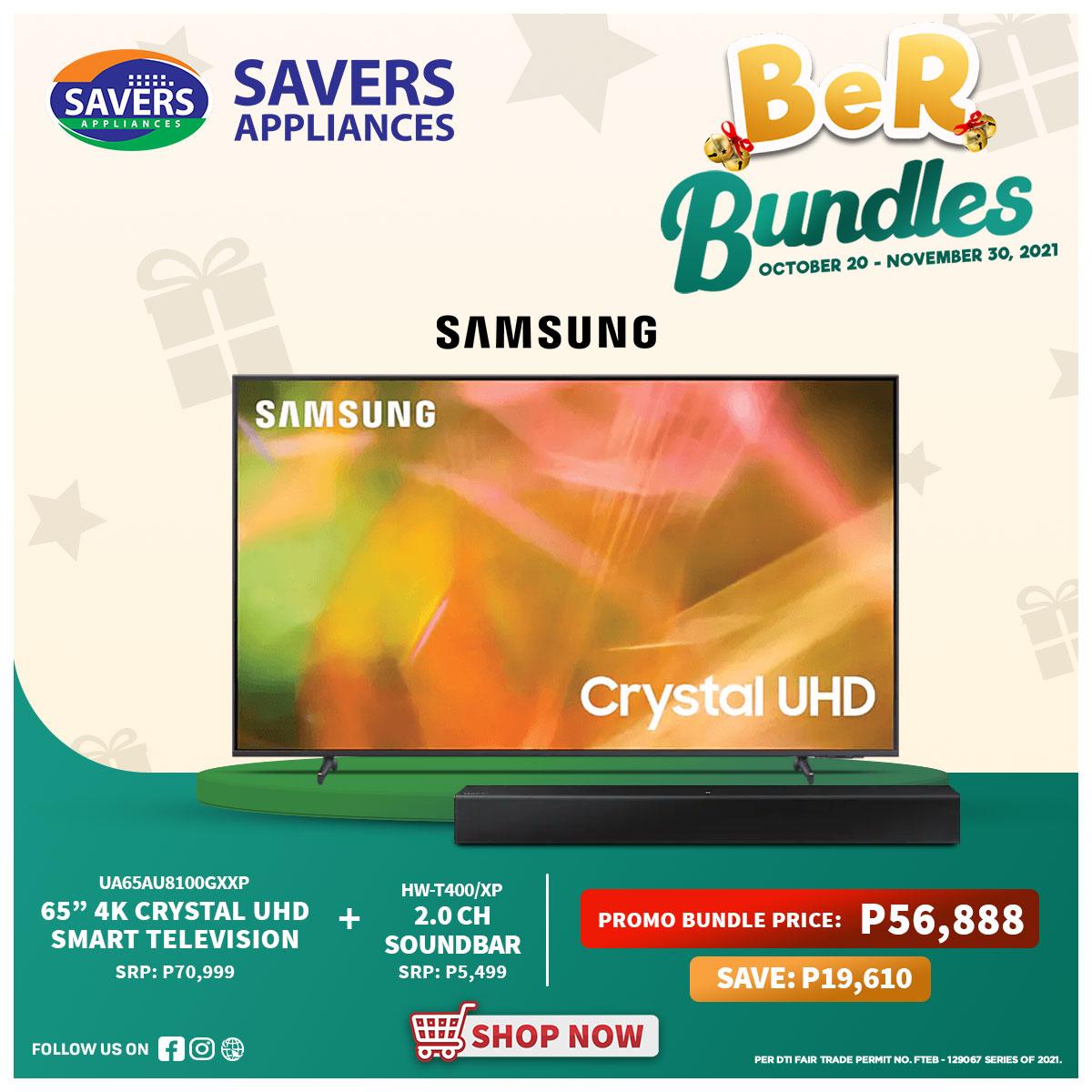 Includes: 65" 4K Crystal UHD Smart TV, 2.0-ch soundbar
Bundle price: P56,888 (You save P19,610)
Binge-watching Netflix on your phone for hours can be tiring and straining to the eyes. It's about time you enjoy shows on a bigger, crystal clear screen with this 65" smart TV from Samsung – and in surround sound with its accompanying 2.0-channel soundbar. Now the only thing you have to worry about is finding the comfiest couch. And lots of pillows. And some snacks. (This could go on.)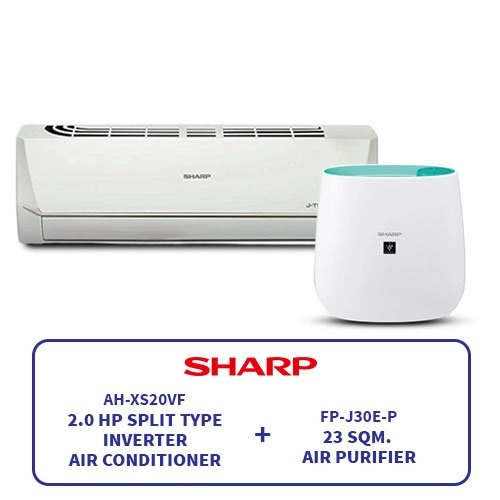 Includes: Split-type air conditioner AH-XS20VF, air purifier FP-J30E
Bundle price: P38,888 (You save P14,108)
If you're looking for a sign to get a split-type air conditioner, this is it! Bulky as it might seem compared to a window-type (because of the outdoor unit), the energy savings, cooling power, and the ease of installation trump this minor disadvantage. Sharp's air purifier is not bad to have either, as it features the plasmacluster ion technology that's certainly handy these days when going out or coming home.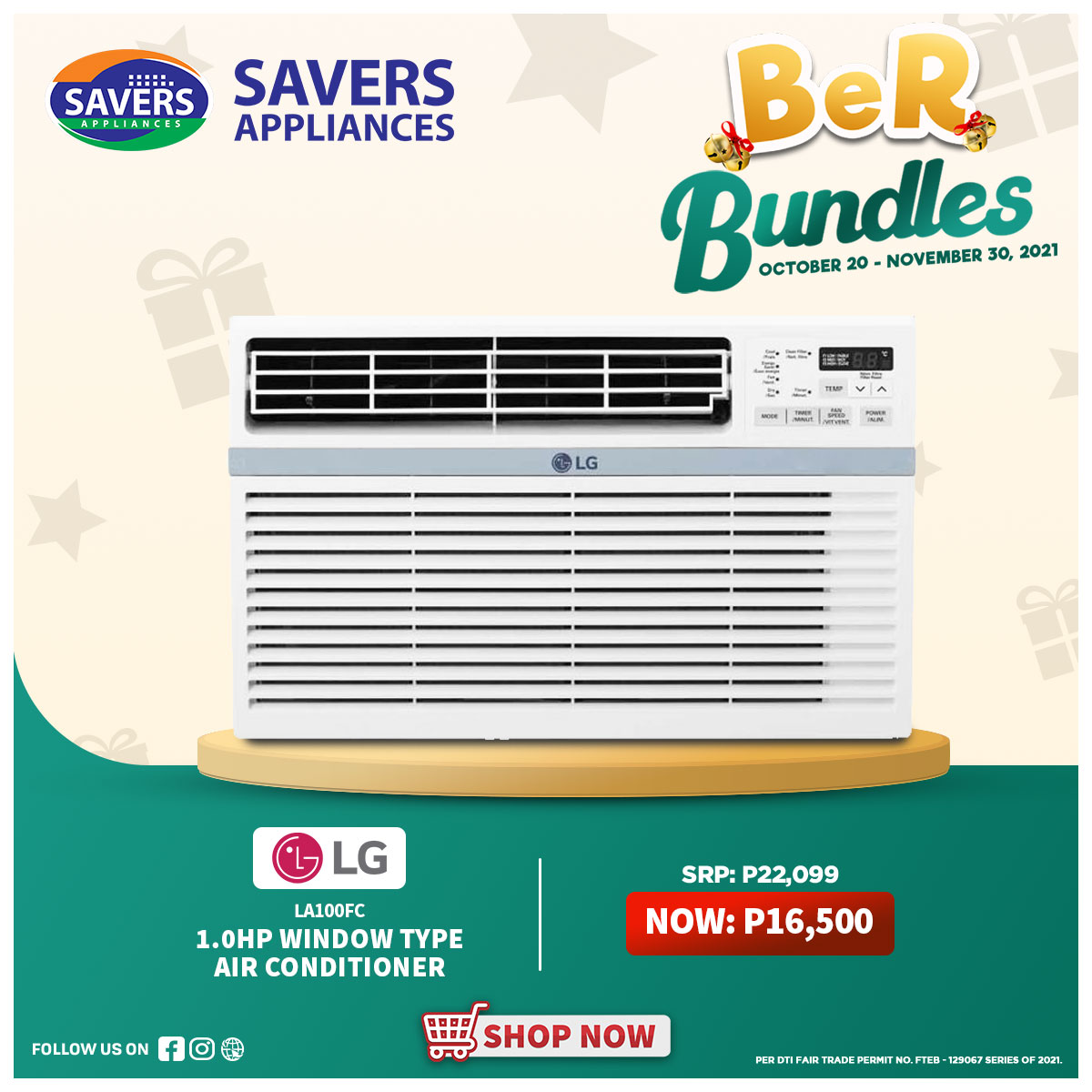 What is it: 1.0-hp window-type air conditioner
Bundle price: P16,500 (You save P5,599)
[Buy it online or on Lazada]
If you would rather go for a window-type air conditioner, no problem! This LG unit has an R32 eco-friendly refrigerant, a four-way air deflection, and an energy-saving mode so it's safe to use and consumes less electricity.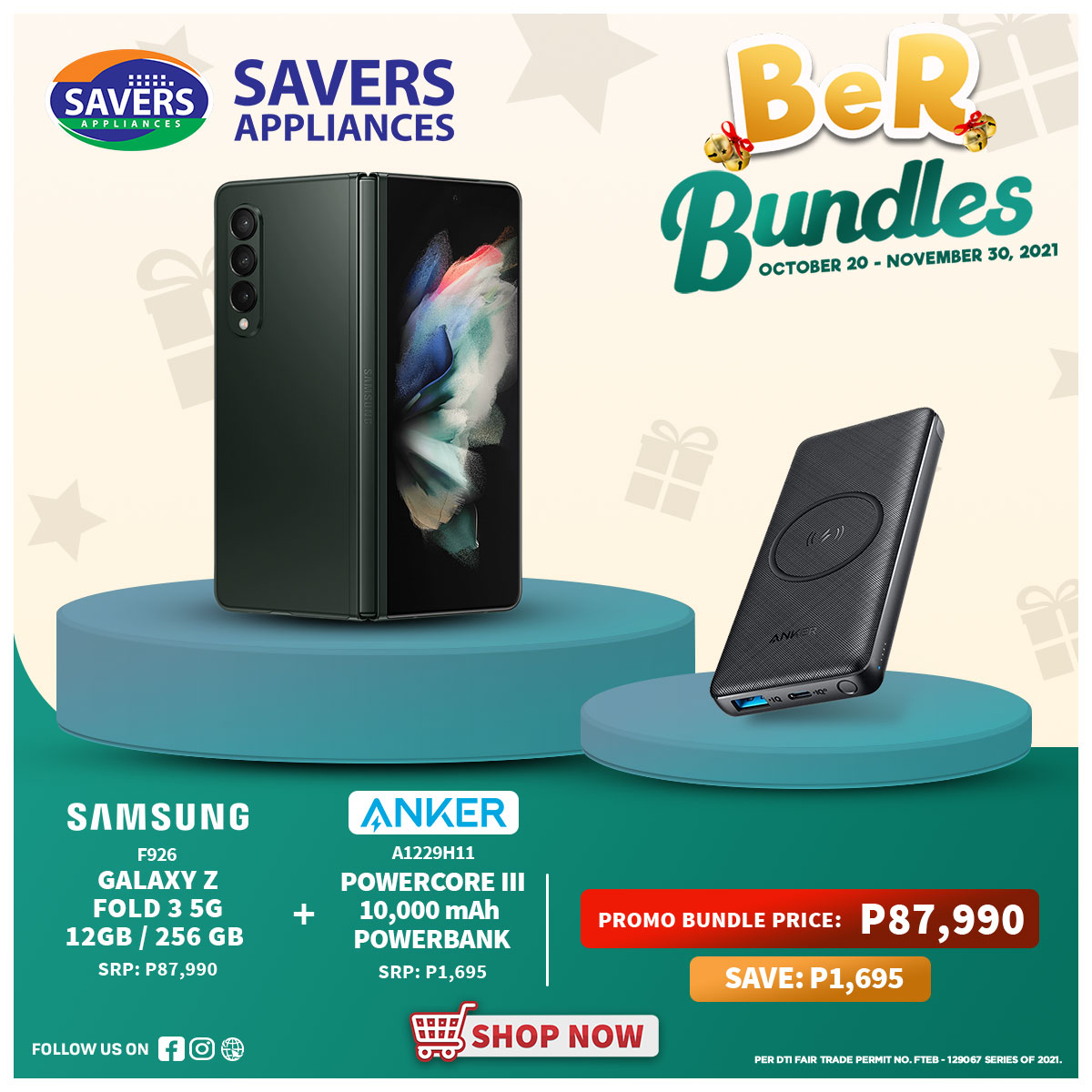 Includes: Samsung Galaxy Z Gold 3 5G 12GB/256GB, Anker Powercore III 10,000 mAh powerbank
Bundle price: P87,990 (You save P1,695)
You can never have too much Samsung, especially when they're so good at almost everything. The recently released Galaxy Z Fold 3 is already available as a "Ber Bundle" with an Anker powerbank (another trusted brand!), and Android devouts should not pass up on the opportunity; Fold 3 and its sister Flip 3 have been getting great reviews so far.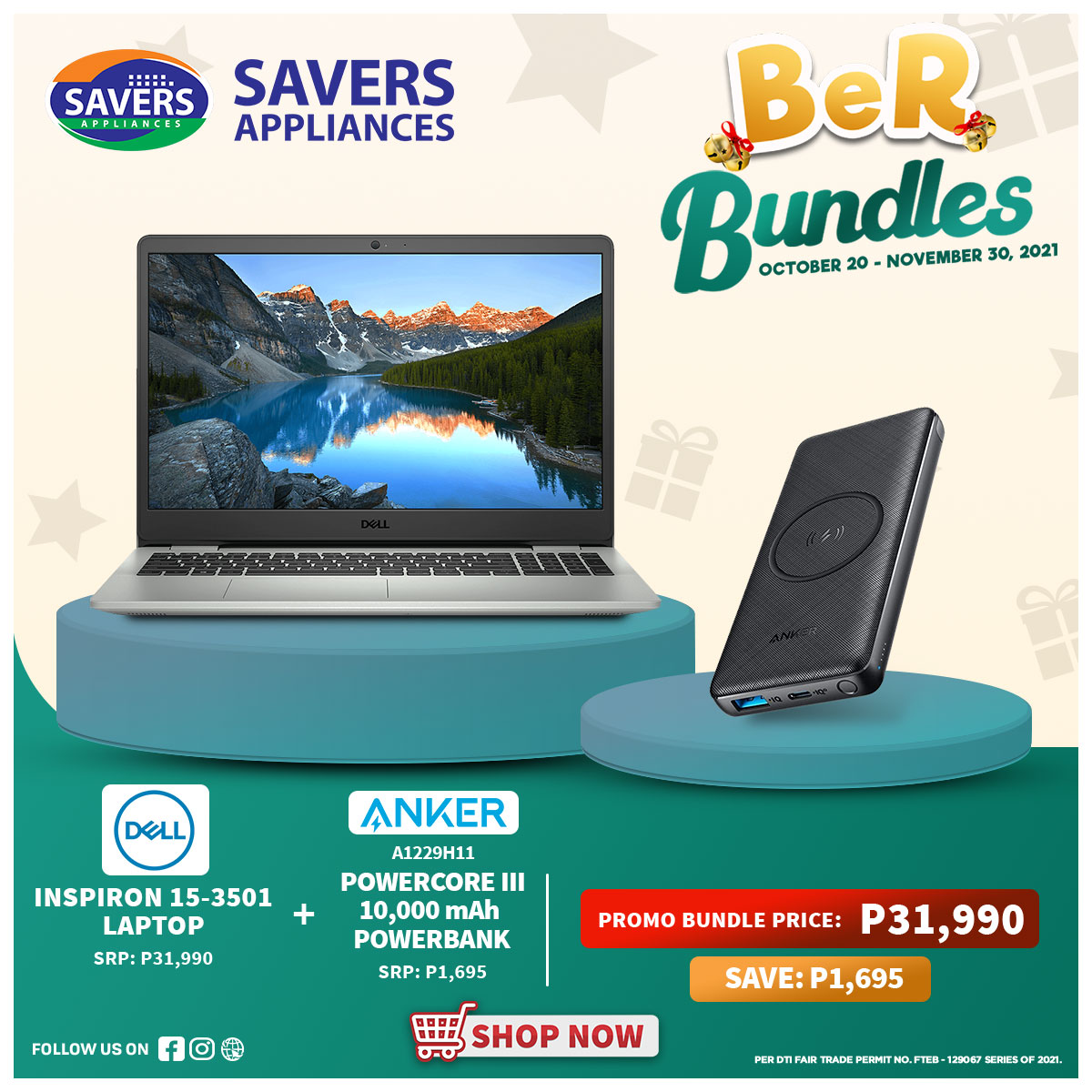 Includes: Dell Inspiron 15-3501 laptop, Anker Powercore III 10,000 mAh powerbank
Bundle price: P31,990 (You save P1,695)
New laptop needed for work or online class? Another worthy "Ber Bundle" paired with an Anker powerbank is a Dell Inspiron laptop, which is one of the sturdier Windows-capable machines around. (I used to own one!) At a reasonable price of P31,990, you'll be able to have a quality laptop that feels both familiar and top-notch. 
See a bundle you like? That means you just made an excellent choice. Deals, promos, and discounts are everything. By availing these instead of regular-priced purchases, you're boosting and extending your money's value – every grown-up's Christmas wish come true.
For more of these "Ber Bundles" and other Savers Appliances promos, visit their stores safely, check out their website, or their Lazada store. – Rappler.com
#CheckThisOut: These 'Ber Bundles' will save you money on appliances