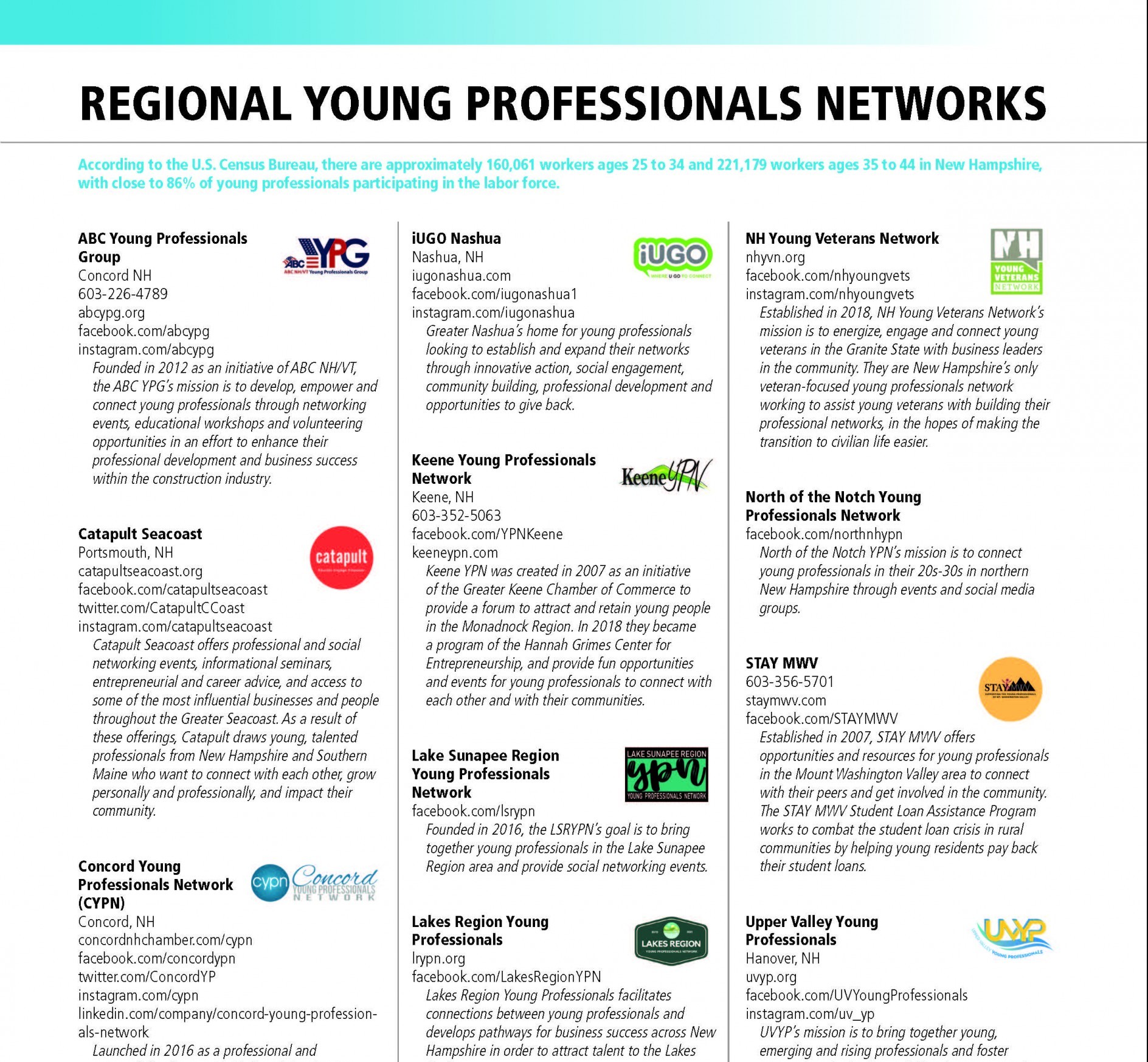 List of Regional Young Professional Networks
Young professional organizations with networking opportunities and other resources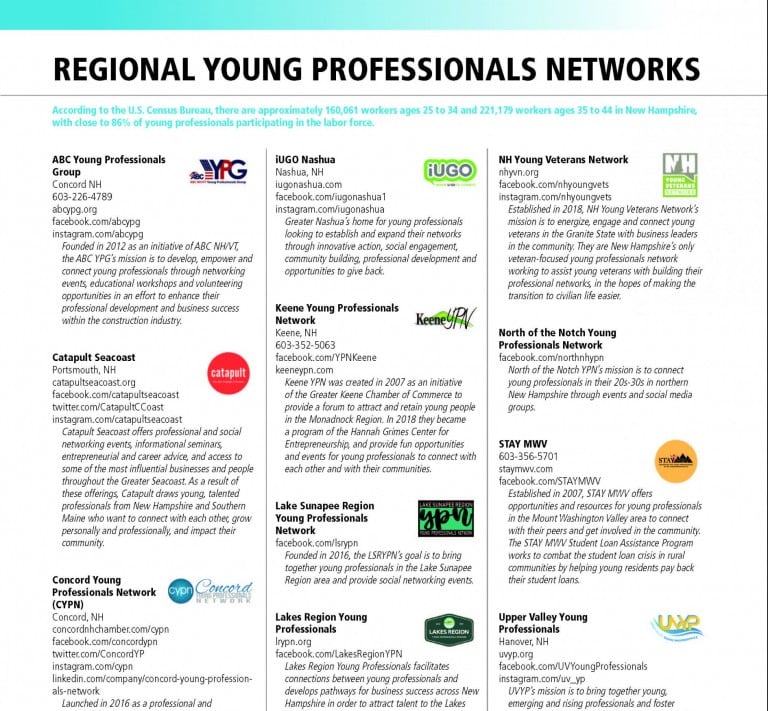 According to the U.S. Census Bureau, there are approximately 160,061 workers ages 25 to 34 and 221,179 workers ages 35 to 44 in New Hampshire, with close to 86% of young professionals participating in the labor force.
ABC Young Professionals Group
58 Chenell Drive
Concord NH 03301
603-226-4789
abcypg.org
facebook.com/abcypg
instagram.com/abcypg
[email protected]
Founded in 2012 as an initiative of ABC NH/VT, the ABC YPG's mission is to develop, empower and connect young professionals through networking events, educational workshops and volunteering opportunities in an effort to enhance their professional development and business success within the construction industry.
Catapult Seacoast
PO Box 385
Portsmouth, NH 03802
catapultseacoast.org
facebook.com/catapultseacoast
twitter.com/CatapultCCoast
instagram.com/catapultseacoast
[email protected]
Catapult Seacoast offers professional and social networking events, informational seminars, entrepreneurial and career advice, and access to some of the most influential businesses and people throughout the Greater Seacoast. As a result of these offerings, Catapult draws young, talented professionals from New Hampshire and Southern Maine who want to connect with each other, grow personally and professionally, and impact their community.
Concord Young Professionals Network (CYPN)
49 South Main Street, Suite 104
Concord, NH 03301
concordnhchamber.com/cypn
facebook.com/concordypn
twitter.com/ConcordYP
instagram.com/cypn
linkedin.com/company/concord-young-professionals-network
Launched in 2016 as a professional and personal development initiative of the Greater Concord Chamber of Commerce. CYPN provides complimentary networking, learning and growth opportunities for young professionals who live, work and play in the Capital Region.
Greater Rochester Young Professionals
603-332-5080
rochesternh.org
facebook.com/GRYPNH
[email protected]
Designed for young professionals in the area, between the ages of 18 and 40, who meet in a causal setting while networking with others and building their contact base. Through networking and involvement, these young professionals build a sense of community and belonging, build rapport with potential clients, expand their social interactions and represent their company.
iUGO Nashua
60 Main Street, Suite 200
Nashua, NH 03060
iugonashua.com
facebook.com/iugonashua1
instagram.com/iugonashua
[email protected]
Greater Nashua's home for young professionals looking to establish and expand their networks through innovative action, social engagement, community building, professional development and opportunities to give back.
Keene Young Professionals Network
25 Roxbury Street
Keene, NH 03431
603-352-5063
facebook.com/YPNKeene
keeneypn.com
[email protected]
Keene YPN was created in 2007 as an initiative of the Greater Keene Chamber of Commerce to provide a forum to attract and retain young people in the Monadnock Region. In 2018 they became a program of the Hannah Grimes Center for Entrepreneurship, and provide fun opportunities and events for young professionals to connect with each other and with their communities.
Lake Sunapee Region Young Professionals Network
facebook.com/lsrypn
[email protected]
Founded in 2016, the LSRYPN's goal is to bring together young professionals in the Lake Sunapee Region area and provide social networking events.
Lakes Region Young Professionals
lrypn.org
facebook.com/LakesRegionYPN
[email protected]
Lakes Region Young Professionals facilitates connections between young professionals and develops pathways for business success across New Hampshire in order to attract talent to the Lakes Region.
Manchester Young Professionals Network (MYPN)
54 Hanover Street
Manchester, NH 03101
manchesteryoungprofessionals.org
facebook.com/ManchesterYP
instagram.com/manchester_yp
[email protected]
The Manchester Young Professionals Network (MYPN) aims to engage, educate and empower young professionals and emerging leaders to foster an environment where young professionals lead, create, innovate and influence their surroundings. MYPN was New Hampshire's first young professionals' networking organization, established in 2004.
NH Young Veterans Network
nhyvn.org
facebook.com/nhyoungvets
instagram.com/nhyoungvets
[email protected]
Established in 2018, NH Young Veterans Network's mission is to energize, engage and connect young veterans in the Granite State with business leaders in the community. They are New Hampshire's only veteran-focused young professionals network working to assist young veterans with building their professional networks, in the hopes of making the transition to civilian life easier.
North of the Notch Young Professionals Network
facebook.com/northnhypn
[email protected]
North of the Notch YPN's mission is to connect young professionals in their 20s-30s in northern New Hampshire through events and social media groups.
STAY MWV
603-356-5701
staymwv.com
facebook.com/STAYMWV
[email protected]
Established in 2007, STAY MWV offers opportunities and resources for young professionals in the Mount Washington Valley area to connect with their peers and get involved in the community. The STAY MWV Student Loan Assistance Program works to combat the student loan crisis in rural communities by helping young residents pay back their student loans.
Upper Valley Young Professionals
PO Box 699
Hanover, NH 03755
uvyp.org
facebook.com/UVYoungProfessionals
instagram.com/uv_yp
[email protected]
UVYP's mission is to bring together young, emerging and rising professionals and foster connections in the Upper Valley. As a resource for young adults ages 20 to 40 in the Upper Valley, UVYP creates opportunities for young professionals to connect with one another and their community in order to expand their personal or professional networks.
Source: Stay Work Play New Hampshire, stayworkplay.org. Stay Work Play is a nonprofit aimed at encouraging more young workers to "Stay, Work and Play" in New Hampshire. Connect with them at facebook.com/stayworkplay and on Twitter and Instagram @stayworkplay.