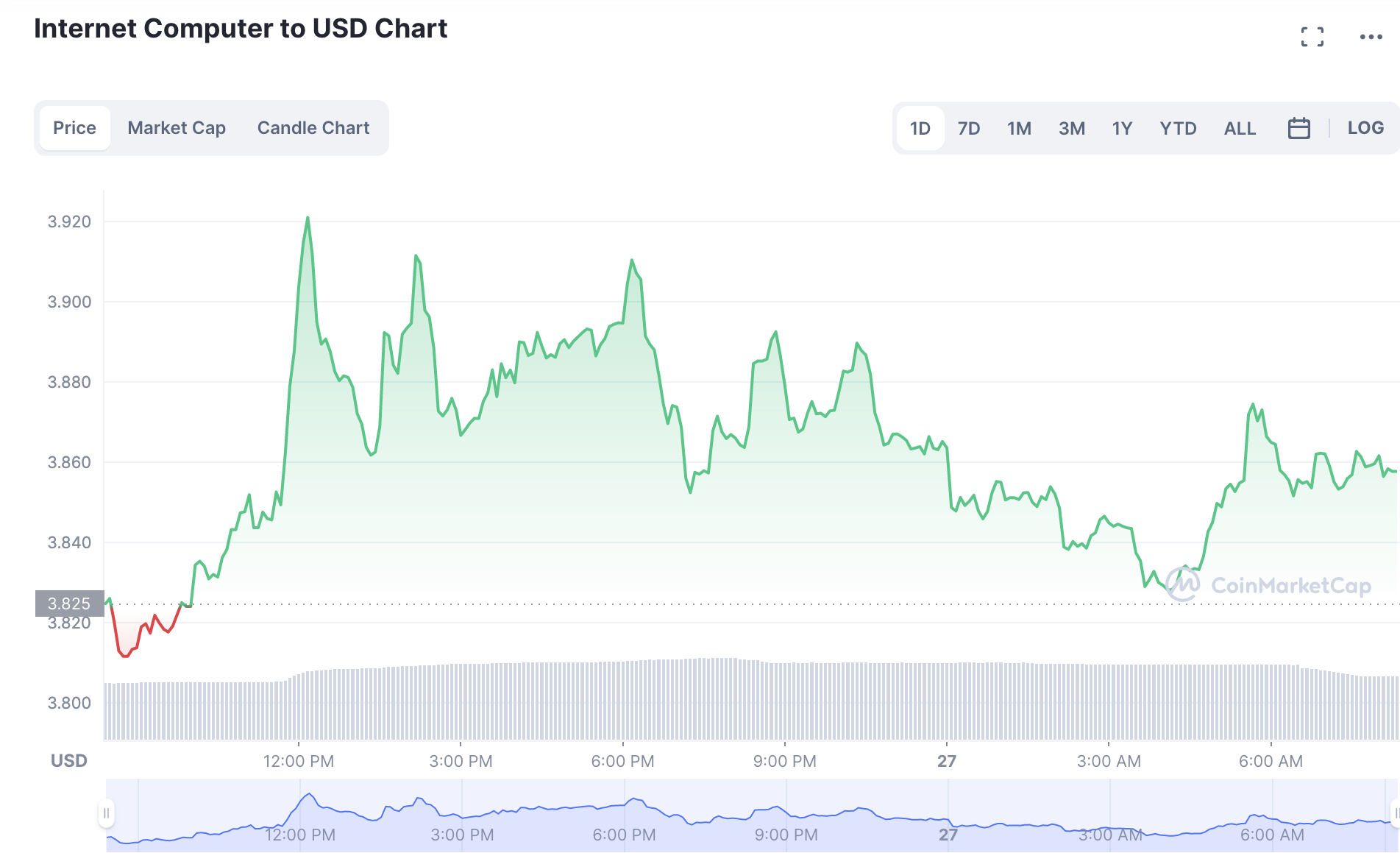 Internet Computer Protocol Price Prediction — Which Way Is The Price Headed in 2023?
When it comes to the most valuable Metaverse initiatives, the market valuation of Internet Computer Protocol (ICP) is $1.08 billion, making it one of the top tokens worth investing in for the long term. It has always been interesting to users, and it will continue to be so as long as it has the potential to define a Metaverse future. 
If the Metaverse continues to grow and more established companies enter the Web3 market, ICP may serve as both an inspiration and an object of want for those who will soon have to compete in the space. The Internet Computer Protocol (ICP) has surpassed other prominent Metaverse initiatives, according to the results of a recent market valuation study. 
Stick around till the end of this article to understand whether it is worth investing in ICP for the long term.
More on Internet Computer Protocol
Using recent developments in encryption, the Internet Computer Protocol implements a fundamental rethinking of blockchain design. 
It offers the first blockchain system that can be used to construct practically any online system or service, including resource-intensive web social media, without relying on conventional information technology (IT) techniques like cloud computing. For that purpose, it can facilitate total decentralization across the board.
What Value Does The ICP Token Have?
There are essentially three uses for the ICP token. To begin, as ICP is transformed into cycles, it evaporates, and deflationary pressure is created since cycles are burnt to power computing. 
Second, ICP may be placed in the peer-to-peer Network Nervous System DAO that administers the Internet Computer Protocol to produce voting neurons that yield voting rewards. 
Third, ICP acts as a kind of value storage, enabling its users to do things like make investments in decentralized presales organized by Web3 services.
ICP to Give General Population Access to World Computer Functionality
The goal of the blockchain-based Internet Computer Protocol is to make World Computer services available to the general population. The Internet Computer Protocol is a platform where developers may create blockchain-based, distributed applications and websites without resorting to centralized, legacy information technology. 
Developers create smart contract software to create decentralized online systems and services. The benefits of using smart contracts in this setting can be enormous. By eliminating the need for firewalls to safeguard systems and services from hackers, smart contracts help to address a growing problem in business and society. 
Tokens can be processed by Web3 services developed on the Internet Computer Protocol, which can then be used to launch brand projects. Tokenized social networks are only one example of what may be made when Web3 combines social media with DeFi.
On the Internet Computer Protocol, smart contracts in the form of "canisters" are a reality. These have the potential to carry out a wide variety of novel tasks, including producing transactions that run straight on many blockchains using Chain Key TX, providing dynamic content experiences to consumers in real-time by handling HTTP requests, scaling exponentially and running as productively as traditional IT, significantly reducing hazardous CO2 emissions generated by blockchain, and perhaps even the overall tech ecosystem someday. 
The Web3 platform allows the creation of SocialFi, GameFi, DeFi, and Metaverse services. Using Chain Key TX, they can handle tokens from different blockchains without the need for bridges. 
Why Should You Consider Internet Computer Protocol?
By employing the Internet Computer Protocol to generate the interactive online experience in place of centralized traditional IT like cloud computing services, systems like DeFi on Ethereum are able to achieve full decentralization.
Canister smart contracts on the Internet Computer Protocol are the first of their kind to self-finance their processing by employing a "reverse gas" approach. This allows users of web3 to start sessions with services, which may then submit several blockchain transactions, like a conversation's worth of messages, without the user having to do anything more than start the session.
The Internet Protocol can be used with the new "Internet Identity" identifying system that is based on blockchain technology. This allows users to authenticate to websites using non-traditional methods, such as their laptop's fingerprint reader or their smartphone's Face ID, in addition to more commonplace tools like a Ledger wallet.
All of the setups and upgrades for web3 services may be handled by community DAOs (decentralized autonomous organizations) because of the fact that they can be constructed entirely on the blockchain. It is possible to make users co-owners and contributors of internet services.
An enhanced decentralized autonomous organization (DAO) built within the Internet's protocols serves as the network's central nervous system. This fuels the rapid growth of the network by regularly updating the replica software running on the specialized node servers that host the blockchain.
What Is The Price Prediction For ICP?
When you look at the price chart of ICP on CoinMarketCap, the price of ICP is extremely low since it has been in a bear market for a very long, declining parallel channel, and is now towards the bottom of the bear market. 
The fact that prices are currently trading above the channel's half-line is indicative of growing breakout potential. After a strong breakout, ICP might go up to $7 or more. Volume and OBV both point to a steady ascent that backs up the idea of an impending surge. All of the major EMA's have space above present levels, which can be taken advantage of in the near future.
Price action has been consolidating for quite some time, suggesting a possible breakout at any time. The CMF indicator makes subtle attempts to cross over the zero line, suggesting an upcoming increase. 
Converging MACD lines reflect a reduction in selling pressure, which might be interpreted as an increase in buyer interest. When the Relative Strength Index (RSI) approaches 50, it indicates neutrality and eventually favors buyers.
The direction in which ICP is currently trending marks the transition from the consolidation to the expansion stage. The CMF indicator is positive and appears to be maintaining its bullish trend. 
The MACD indicator, which captures buyer bars and growing participation, shows that buyers are persistently expressing interest in keeping with the market's longer-term trend. When the RSI indicator rises to new highs, it indicates that purchasers are very interested in the market. 
At the time of writing this article, ICP stood at $3.87 and has spiked by 4.68% since yesterday. The timing is perfect for you to invest in a token with high utility with the capability of giving you 100x your investment in the long run.
Related Articles
FightOut (FGHT) – Newest Move to Earn Project
CertiK audited & CoinSniper KYC Verified
Early Stage Presale Live Now
Earn Free Crypto & Meet Fitness Goals
LBank Labs Project
Partnered with Transak, Block Media
Staking Rewards & Bonuses
Internet Computer Protocol Price Prediction — Which Way Is The Price Headed in 2023?